Úvod » Semináre » State of the Art in University/Industry Relations to Prepare the Engineer of the Future
State of the Art in University/Industry Relations to Prepare the Engineer of the Future
Tento seminár už síce nestihnete, ale pokiaľ máte záujem o podobný,
dajte nám vedieť
!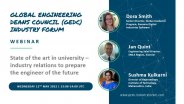 | | |
| --- | --- |
| Kedy: | 11. 5. 2022, 15:00 – 16:00 |
| Kde: | online prostredníctvom služby GoToWebinar |
| Vložné: | zdarma, nutná registrácia |
Tu nájdete odkazy na materiály spomínané na webinári 11. 5.
Prvý zo štyroch GEDC Industry Forum Webinar Series je zameraný na zručnosti a talent. Nasledovať budú:
15. 6. Educational Transformation
14. 9. Impact
12. 10. Innovation & Partnerships
Chcete si pozrieť webinár zo záznamu? Chcete dostávať pozvánky, keď budú zverejnené prihlášky na ďalšie webináre zo série? Napíšte Lucii Poledníkovej alebo sledujte pozvánky na Facebooku.
Invitation
The first webinar in GEDC Industry Forum Webinar Series will be on Wednesday 11th May from 13:00–14:00 UTC with a focus on skills and talent. We will explore the state of the art in university–industry relations to prepare the engineer of the future.
We'll hear from Dora Smith at Siemens Digital Industries Software who comes fresh from her role as co-chair and host at the recent ASEE Industry 4.0 Workforce Summit. Dora will share her main insights from the event which gathered leading representatives from this community across North America to look at the adaptations and activities required to meet the pace of change in the engineering landscape.
We'll then hear from Jan Quint at Elsevier whose work with industry, academic institutions and government across Europe, the Middle East and Latin America will add another dynamic perspective.
Dr. Sushma Kulkarni, Director of Rajarambapu Institute of Technology and recognised as one of the 100 Most Influential Directors of India (Education) by the World Education Congress will join us to complete this global discussion.
In keeping with the vibrant and highly interactive nature of the GEDC Industry Forum since its inception, comments, questions and interaction with our audience of peers is not just encouraged but expected!
We are grateful to our partner Elsevier for their support which has enabled this series to take place.
Speakers:
Dora Smith, Senior Director, Global Academic Program, Siemens Digital Industries Software
Jan Quint, Engineering Sales Director, EMLA Region, Elsevier
Sushma Kulkarni, Director, Rajarambapu Institute of Technology, Maharashtra, India
Hosted by Kirsten Williamson, CEO, Petrus, Co-Chair, Global Engineering Deans Council Industry Forum
Kontaktujte nás
Albertina icome Bratislava, s.r.o.
,
Cukrová 14

,

813 39

Bratislava 1
tel.:
02-529 324 50
e-mail:
aib@aib.sk