Úvod » Semináre » Writing and publishing simplified - how the Forschungszentrum Jülich introduced SciFlow Authoring Platform at the campus
Writing and publishing simplified - how the Forschungszentrum Jülich introduced SciFlow Authoring Platform at the campus
Tento seminár už síce nestihnete, ale pokiaľ máte záujem o podobný,
dajte nám vedieť
!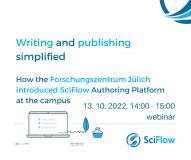 | | |
| --- | --- |
| Kedy: | 13. 10. 2022, 14:00 – 15:00 |
| Kde: | online prostredníctvom služby Zoom |
| Vložné: | zdarma, nutná registrácia |
Nevyhovuje vám čas konania? Prihláste sa aj tak, následne vám pošle SciFlow odkaz na záznam webinára.
Invitation
Writing and Publishing activities take a large portion of researchers and students at institutions every day. Quality and the number of publications are vital for researchers and, therefore, the institution. More and more research institutions and libraries support their users in accomplishing those core activities.
An easy and out-of-the-box way to support researchers and students is SciFlow – the writing platform for academia. Collaboration, automated formatting, and integration of essential researcher tools are distinguished features.
The Forschungszentrum Jülich is a member of the Helmholtz Association. It has over 7.000 employees and is one of Europe's largest interdisciplinary research centers. SciFlow was introduced at the institution in 2020 during the pandemic to improve collaboration and simplify writing.
In this Webinar, you will get insights into how the Forschungszentrum Jülich introduced SciFlow at their campus. In one hour, we will cover the following topics:
Introduction to SciFlow
SciFlow at the Forschungszentrum Jülich: How SciFlow was introduced at the institution and how it helped their researchers
Live Demo including new features such as journal template database, suggestions, individual templates
Your questions
Our Guest speaker from the Forschungszentrum Jülich will be Thomas Arndt, Libary Marketing Manager. Mr. Arndt is responsible for library cooperations, outreach, and organizing internal training. He is also the contact person for SciFlow at the institution.
The presenting host is Carsten Borchert, Co-Founder and Managing Director of SciFlow.
Kontaktujte nás
Albertina icome Bratislava, s.r.o.
,
Cukrová 14

,

813 39

Bratislava 1
tel.:
02-529 324 50
e-mail:
aib@aib.sk