Alexander Street, Part of Clarivate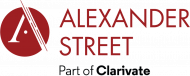 Alexander Street vydáva online rozsiahle digitálne zbierky videozáznamov a zvukových nahrávok, notových zápisov a úplných textov primárnych zdrojov, najmä pre humanitné a spoločenské vedy. Zbierky pokrývajú čoraz širšiu škálu odborov vrátane hudby, poradenstva a terapie, ošetrovateľstva, antropológie, ženských, menšinových a rodových štúdií, trestného práva, sociálnych a kultúrnych dejín, literatúry, drámy, divadla a filmu, religionistiky, environmentálnych vied a ďalších.
Od svojho vzniku v roku 2000 vydáva Alexander Street zbierky, ktoré obsahujú kvalitný autorsky chránený a predtým nepublikovaný materiál. Každá databáza je indexovaná pomocou jedinečného sémantického indexovania™, ktoré poskytuje vedcom, vysokoškolským učiteľom a študentom presný vyhľadávací nástroj a priestor na analýzu nájdených materiálov.
Spoločnosť Alexander Street si získala vynikajúcu povesť vrátane ocenení za "Najlepší nový produkt". "Najlepší obsah" a "Najlepšie možnosti zmluvy" od The Charleston Advisor, "Produkt mesiaca" od History News Network, ako aj vynikajúce recenzie v odborných knihovníckych časopisoch.
Súčasťou spoločnosti ProQuest je od júna 2016. Od decembra 2021 sa Alexander Street aj ProQuest stali súčasťou spoločnosti Clarivate.
Kontaktujte nás
Albertina icome Bratislava, s.r.o.
,
Cukrová 14

,

813 39

Bratislava 1
tel.:
02-529 324 50
e-mail:
aib@aib.sk